I can't believe its been over a YEAR since I wrote an update on whats been happening… I'm so very sorry for those who might actually been looking forward to; or interested in reading about our travels.
I kinda suffered a writers block… I would make a lot of starts but nothing… and I mean nothing progressed past the first couple of paragraphs….. Then the weeks turned into months….and it all just seemed to hard…..
So I did what I do best and just threw my hands up in the air and gave up!…. Silly I know but those that know me know I can have the attention span of a gnat…. not to say gnats' aren't able to focus on long term projects. I personally have never met, nor been friends with a gnat to be able to make an unbiased assessment… So sorry to any gnats that may take offence.
Now that's out of the way let me start with the original article which started my writers block…. This was written over a year ago waiting to be completed. We left Broome to travel inland down to Esperance via Newman and Meekatharra.
Marble Bar – Sept 2018
I never thought I would willingly travel through (let-alone-stay) at Marble Bar. The only thing I really knew was it being the hottest place in Australia. I must admit that I'd never considered going to visit the area because of this…. how very silly and bias of me. It was Hubbie that inadvertently convinced me to give Marble Bar ago…. after all this whole trip is about getting out of our comfort zones and embracing change.
I thought I could "put up", with Mable Bar for a few days while he scratched around looking for Gold. Well…. I can now tell you my preconceived ideas about this wonderful little town were way off……I have thoroughly enjoyed it. Right from the moment we approached the town I was in awe of the landscape – it looked so ancient. A very different contrast to all I had seen while traveling through the Top End from Townsville. The longer I stayed the more beautiful and spectacular I found it.
This slideshow requires JavaScript.
Reflecting back on my writing about Marble Bar I was really worried about not selling it short while also thinking….. 2 / 3 days is enough at this time of year, but what an amazing place.
I could of spent longer if we had of gotten there a month or too earlier. The temp was starting to get a bit warm for me at around 35 °C and I couldn't wait to get down to Esperance. I still loved every minute and you can be forgiven in having a moment at the 'Bar' thinking that it looks like "Willy Wonka threw up everywhere!"…
It reminded me of being a kid again, jumping from rock to rock while lugging a bucket of water to throw onto the rocks making the colours vivid in the sunshine. Even Hubbie had a laugh or two… It also made me crave those hard boiled lollies you use to get at corner stores.
It is worth mentioning that there is no 'Marble' at Marble Bar. The rock is Jasper – google it if you want to know more. The other thing that I thought was a must visit was the Pioneer Memorial Wall… located in the Main Street.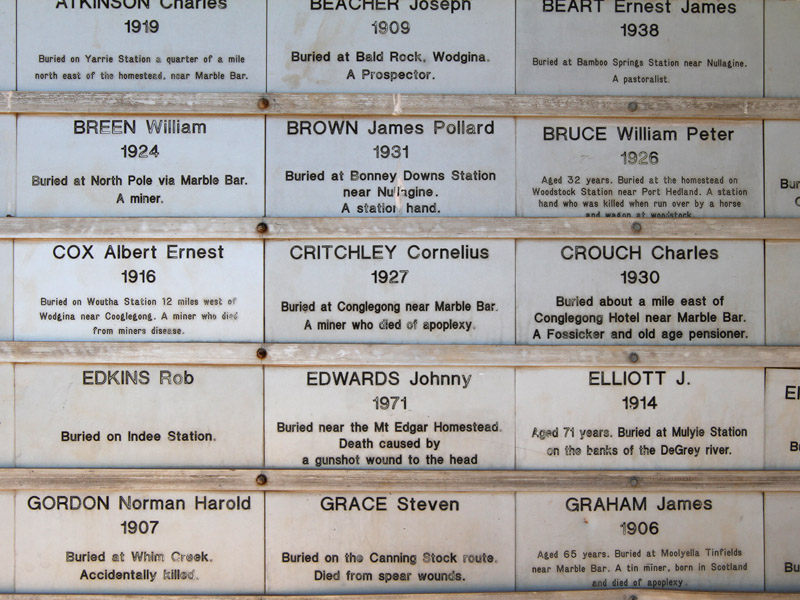 It sparks an interest to know more of the people who once lived, worked or prospected around the area. For me it brought the past back to life and marked how many people have died in the outback that may have remained unknown in unmarked graves, if not for the hard work and dedication of local historians.
Marble Bar was a gem that I'm glad I had the opportunity to visit…..
Bye, for now…. I can't wait to tell you all bout the rest of our travels to date…. we have lots to catch up on…and I need a cup of coffee 🙂